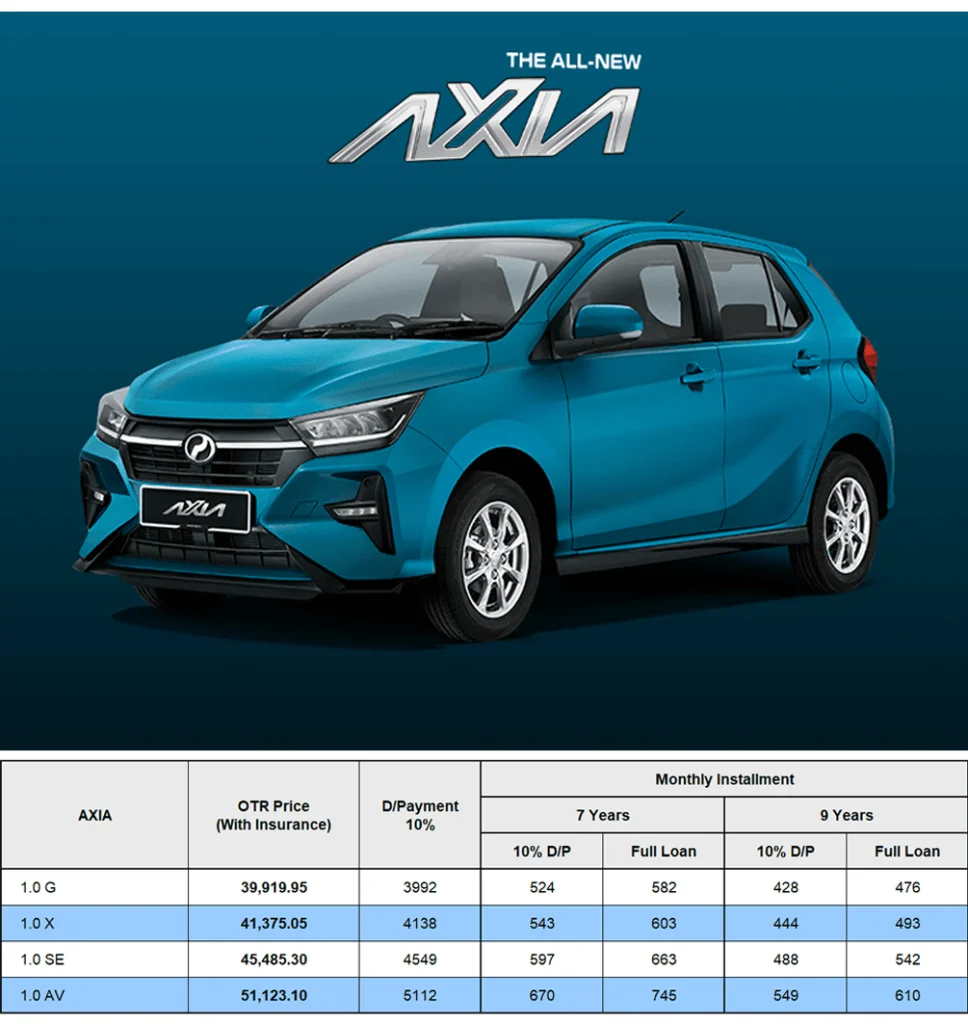 In the ever-evolving world of automobiles, the Perodua Axia has consistently stood out as a reliable and affordable compact car option. As we enter the year 2023, Perodua, Malaysia's leading automotive manufacturer, has unveiled the latest iteration of the Axia, promising to build upon its already impressive legacy. In this article, we will take a closer look at the Perodua Axia 2023 and what makes it a compelling choice in the compact car segment.
A Fresh Design
The Perodua Axia 2023 boasts a refreshed design that combines contemporary aesthetics with functional elements. The front fascia features a sleeker grille and sharper headlights, giving the car a more dynamic appearance. The LED daytime running lights add a touch of sophistication while improving visibility on the road. The rear of the Axia has also been updated with new taillights and a modern bumper design. These design changes make the 2023 model a head-turner on the streets.
Improved Interior Comfort
Inside the Perodua Axia 2023, you'll find a well-thought-out and comfortable cabin. Perodua has paid great attention to detail, using high-quality materials to enhance the overall feel of the interior. The ergonomically designed seats provide excellent support and comfort, making long drives a breeze.
One notable addition is the improved infotainment system, which now includes a larger touchscreen display with enhanced connectivity options. Features like Apple CarPlay and Android Auto compatibility ensure that you stay connected while on the go, allowing for seamless integration with your smartphone.
Efficient Performance
Under the hood, the Perodua Axia 2023 continues to impress with its efficient and reliable powertrain options. The 1.0-liter 3-cylinder engine remains the core choice, providing adequate power while keeping fuel consumption low. This engine is known for its reliability and ease of maintenance, making it an excellent choice for those seeking a cost-effective daily driver.
For those who prioritize fuel efficiency even more, the Axia also comes with a variant that includes a start-stop system. This technology temporarily shuts off the engine when the vehicle is stationary, further reducing fuel consumption and emissions in city traffic.
Safety Upgrades
Safety is a top priority for modern vehicles, and the Perodua Axia 2023 doesn't disappoint. It comes equipped with a range of safety features, including anti-lock brakes (ABS), electronic stability control (ESC), and traction control. Additionally, dual front airbags and ISOFIX child seat anchors are standard across all trim levels, ensuring the safety of both the driver and passengers.
The Axia has also received a 5-star ASEAN NCAP safety rating, attesting to its ability to protect occupants in the event of a collision.
Economical Ownership
One of the standout qualities of the Perodua Axia has always been its affordability, and this tradition continues with the 2023 model. The reasonable starting price makes it an attractive option for first-time car buyers, students, and budget-conscious consumers. Moreover, its fuel efficiency and low maintenance costs translate into long-term savings, making it an economical choice over the life of the vehicle.
Conclusion
The Perodua Axia 2023 maintains its position as a reliable, practical, and affordable compact car. With a fresh design, improved interior comfort, and a commitment to safety, it competes strongly in its segment. Whether you're a first-time car buyer or looking for an efficient daily driver, the Perodua Axia 2023 offers a compelling package that's hard to ignore. With this latest iteration, Perodua continues to raise the bar for compact cars, setting a standard that others in the industry should aspire to follow.