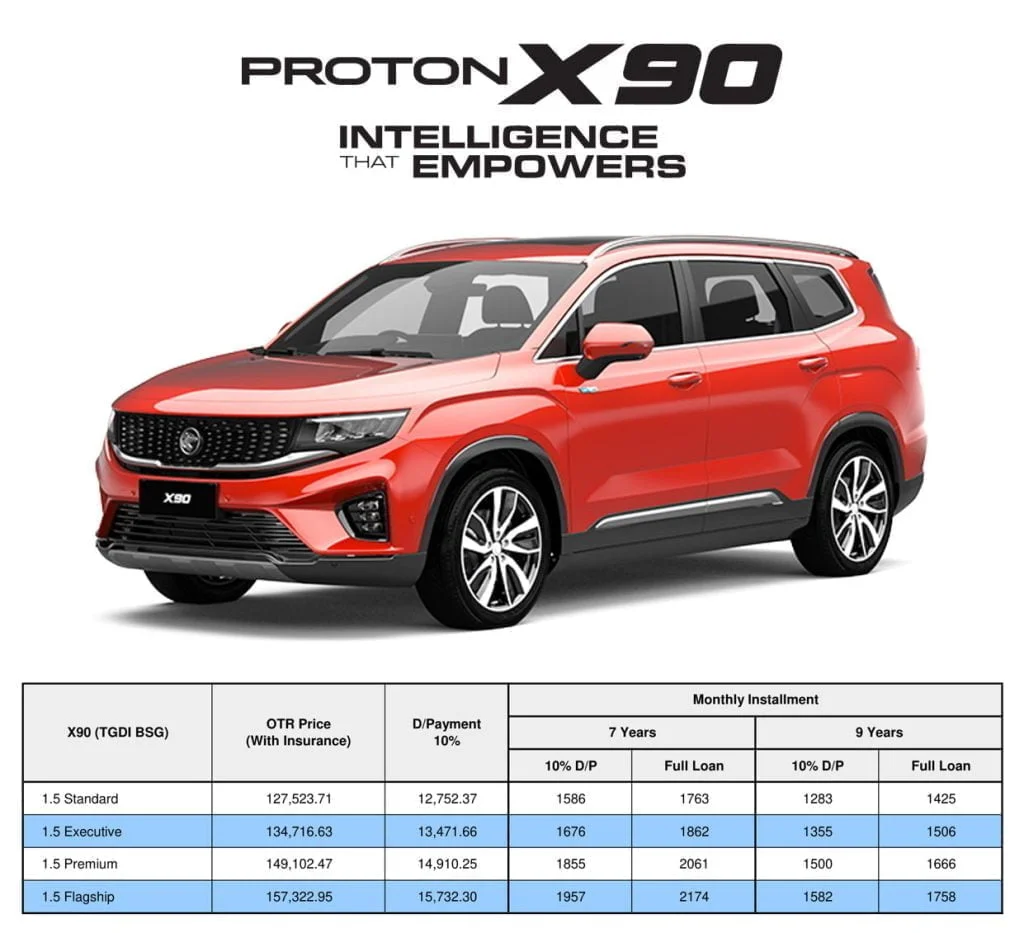 The automotive world is constantly evolving, with technological advancements, design innovations, and sustainability concerns driving the industry forward. Proton, a renowned Malaysian automaker, has been a notable player in this landscape for decades. In 2023, Proton has taken another leap forward by introducing the Proton X90, a highly anticipated SUV that promises to redefine the automotive experience. In this article, we will delve into the Proton X90 2023, exploring its key features, design elements, and the impact it is set to make in the automotive market.
Design and Aesthetics
The Proton X90 2023 is a stunning example of modern automotive design. It combines sleek and aerodynamic lines with bold and aggressive styling, creating a commanding presence on the road. The front fascia features a distinctive grille with the Proton logo proudly displayed, flanked by sleek LED headlights that provide both excellent visibility and a striking visual signature. The SUV's profile is characterized by muscular wheel arches and strong character lines that add to its sense of dynamism.
One of the standout design elements of the Proton X90 is its panoramic sunroof, which spans the entire length of the vehicle's roof, flooding the cabin with natural light and enhancing the feeling of space. The SUV also comes with a range of eye-catching alloy wheel options, allowing customers to personalize their X90 to suit their individual tastes.
Interior Comfort and Technology
Step inside the Proton X90, and you are greeted by a spacious and luxurious cabin that exudes sophistication. The interior is thoughtfully designed with premium materials, including high-quality leather upholstery and brushed aluminum accents. The seating is not only comfortable but also adjustable, ensuring that both driver and passengers find their ideal positions for long journeys.
Technology takes center stage in the Proton X90 2023. The infotainment system features a large touchscreen display with a user-friendly interface, supporting a wide range of connectivity options such as Apple CarPlay and Android Auto. Additionally, the X90 boasts advanced driver-assistance systems (ADAS) that include adaptive cruise control, lane-keeping assist, blind-spot monitoring, and automatic emergency braking, ensuring a safe and stress-free driving experience.
Performance and Powertrain
Under the hood, the Proton X90 2023 offers a range of powerful and efficient engine options, catering to diverse driving preferences. Whether you opt for a fuel-efficient hybrid powertrain or a turbocharged gasoline engine, the X90 delivers impressive performance and agility. The SUV's all-wheel-drive system provides excellent traction, making it suitable for various terrains and weather conditions.
Proton's commitment to sustainability is evident in the hybrid variant of the X90, which combines an internal combustion engine with an electric motor for reduced emissions and improved fuel economy. This eco-friendly option aligns with the growing global focus on reducing carbon footprints and preserving the environment.
Safety and Reliability
Proton places a strong emphasis on safety, and the X90 2023 is no exception. The SUV is equipped with a comprehensive suite of safety features, including multiple airbags, a robust body structure designed to absorb and dissipate energy in the event of a collision, and advanced driver-assistance systems. These safety technologies work together to keep occupants protected and prevent accidents whenever possible.
Furthermore, Proton has a strong reputation for producing reliable vehicles, and the X90 is expected to uphold this tradition. Rigorous testing and quality control processes ensure that the SUV can withstand the demands of daily driving and various road conditions, giving owners peace of mind regarding long-term ownership.
Conclusion
The Proton X90 2023 represents a significant leap forward for the Malaysian automaker, combining cutting-edge design, advanced technology, powerful performance, and a commitment to safety and sustainability. With its striking aesthetics, luxurious interior, and a range of powertrain options, the X90 is poised to make a substantial impact in the automotive market. As Proton continues to expand its presence globally, the X90 is undoubtedly a compelling choice for SUV enthusiasts seeking a premium driving experience.